The Clark County Medical Society's
64TH ANNUAL BOARD INSTALLATION
SATURDAY, JUNE 2 2018 | HARD ROCK HOTEL & CASINO
Thank you for joining us during our 2018 Installation Luncheon and Awards Ceremony!
The Clark County Medical Society (CCMS) will its 64th Board Installation Luncheon & Awards Ceremony on Saturday, June 2, 2018, at the Hard Rock Hotel & Casino. The event honored incoming CCMS President Dr. Jeffrey Roth, the Lou Ruvo Center for Brain Health, Children's Heart Center, and Harold Lee Feikes Memorial Award Winner Dr. Lesley Dickson.
Harold Lee Feikes Memorial Award Winner Dr. Lesley Dickson
Lesley Dickson, MD, FAPM, LFAPA, grew up in San Diego where she fell in love with biology in high school so her first job was as a glassware washer in a biochemistry laboratory. She attended UCLA and received her bachelor's degree in Bacteriology and then worked as a research assistant for many years in biochemistry labs at UCLA, Cal Tech and Scripps Clinic. After relocating to Lexington, Kentucky, she decided on a change and so attended the University of Kentucky College of Medicine where she also completed a residency in psychiatry. She then joined the faculty of the University of Kentucky and was the Chief of Consultation Psychiatry and Residency Training Director for several years. During this time, she became interested in methods of teaching psychotherapy and began turning classic cases into psychodramas which were videotaped and made available to other teaching institutions. This also garnered the Creativity in Psychiatric Education Award by the American College of Psychiatry.
Dr. Dickson transitioned to working at the Lexington VAMC which led to a transfer to the Manhattan, New York VAMC and a faculty position at New York University. She continued to pursue her interest in dramatic writing and participated in several playwriting classes, ultimately having a short play about Anna Freud produced. At the same time, Lesley pursued a clinical interest in the psychiatric problems of individuals with HIV/AIDS and was the liaison psychiatrist to the AIDS unit at the Manhattan VA and a group therapist at the Gay Men's Health Crisis. As an inpatient psychiatrist, she found she spent much time caring for veterans with substance abuse problems and so became ABPN Board certified in Addiction Psychiatry.
A desire to leave the cold winters of the east and be closer to family on the west coast led to a transfer to the Las Vegas VAMC and the faculty of UNSOM. After several years, she retired from the VA and with increased free time became involved in organized psychiatry and then organized medicine. She held several officer positions with the Nevada Psychiatric Association, including president, and for several years has served as the Executive Director. Additionally, she has been the NPA state legislative representative and thus became very involved in the politics of mental health. She has served on three Governor appointed committees, including the Committee on Co-Occurring Disorders, the Committee to Review Suicide Fatalities and the Southern Region Behavioral Health Policy Committee. She has served on several Committees with NSMA and CCMS including Delegate Chair and a member of the Board of Trustees.
Dr. Dickson is presently Clinical Professor of Psychiatry at Touro University and Roseman University. For ten years she has been the Medical Director for the Center for Behavioral Health which operates opiate substitution programs and frequently gives educational talks on Medication Assisted Treatment of Opioid Use Disorders.
Lesley likes to spend time in San Diego with her siblings and travels often to Lexington Kentucky to see her daughter and grandsons. She also still loves the theatre and concert hall and she and her long-term companion, Fred, were delighted when the Smith Center opened.
CCMS President Elect Dr. Jeffrey Roth
A native Las Vegan, Dr. Roth got into medicine for one reason - to make a difference in the lives of the people of Las Vegas. His philosophy is simple: the patient always comes first. As President-Elect for CCMS, he has been instrumental in a variety of programs and initiatives involving promoting CCMS to the general public and increasing our membership and membership benefits. Working with Dr. Adashek and the 2017-2018 Board of Trustees, he has consistently made himself available whenever called upon to help the staff and members of CCMS achieve our full potential.
Children's Heart Center of Nevada
Dr. Joseph Adashek is proud to present the CCMS President's Award to Childrens Heart Center of Nevada, in recognition of the outstanding care they provide to children with congenital heart defects as well as a host of other medical complications.
"The work being done at the Children's Heart Center here in Las Vegas is world class. We should be incredibly proud to have this group practicing medicine in our community." - Dr. Adashek
The Lou Ruvo Center for Brain Health
Dr. Jeffrey Roth has selected the Lou Ruvo Center for Brain Health as the recipient of the 2018 President-Elect's Award, in recognition of the state-of-the-art care they provide to both patients suffering from brain diseases and their families.
"I am consistently amazed by the work they do at the Lou Ruvo Center. They provide unparalleled care and are continuously striving to understand how to better treat diseases like Alzheimer's, Parkinson's, Huntington's and other brain-related health issues." - Dr. Roth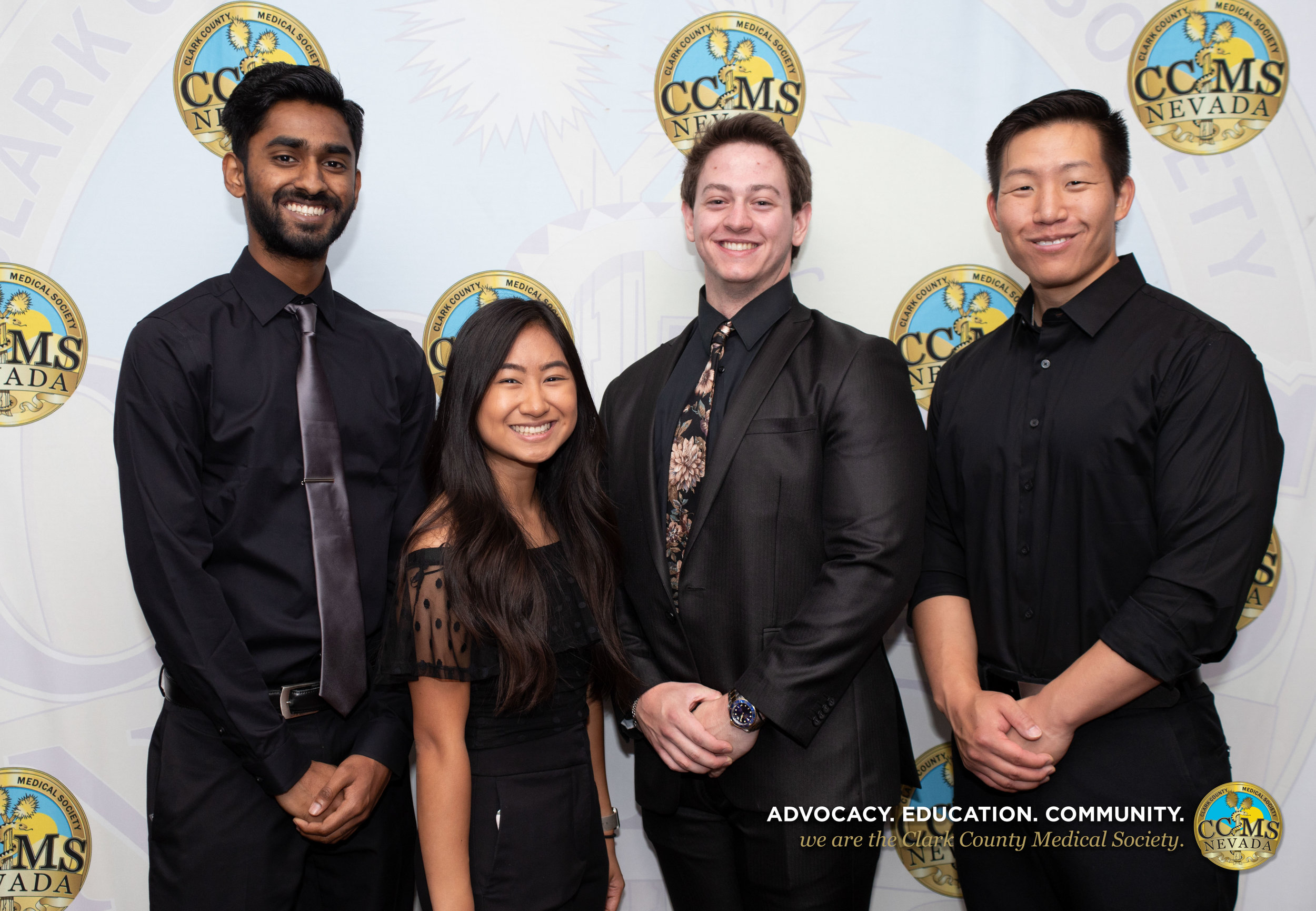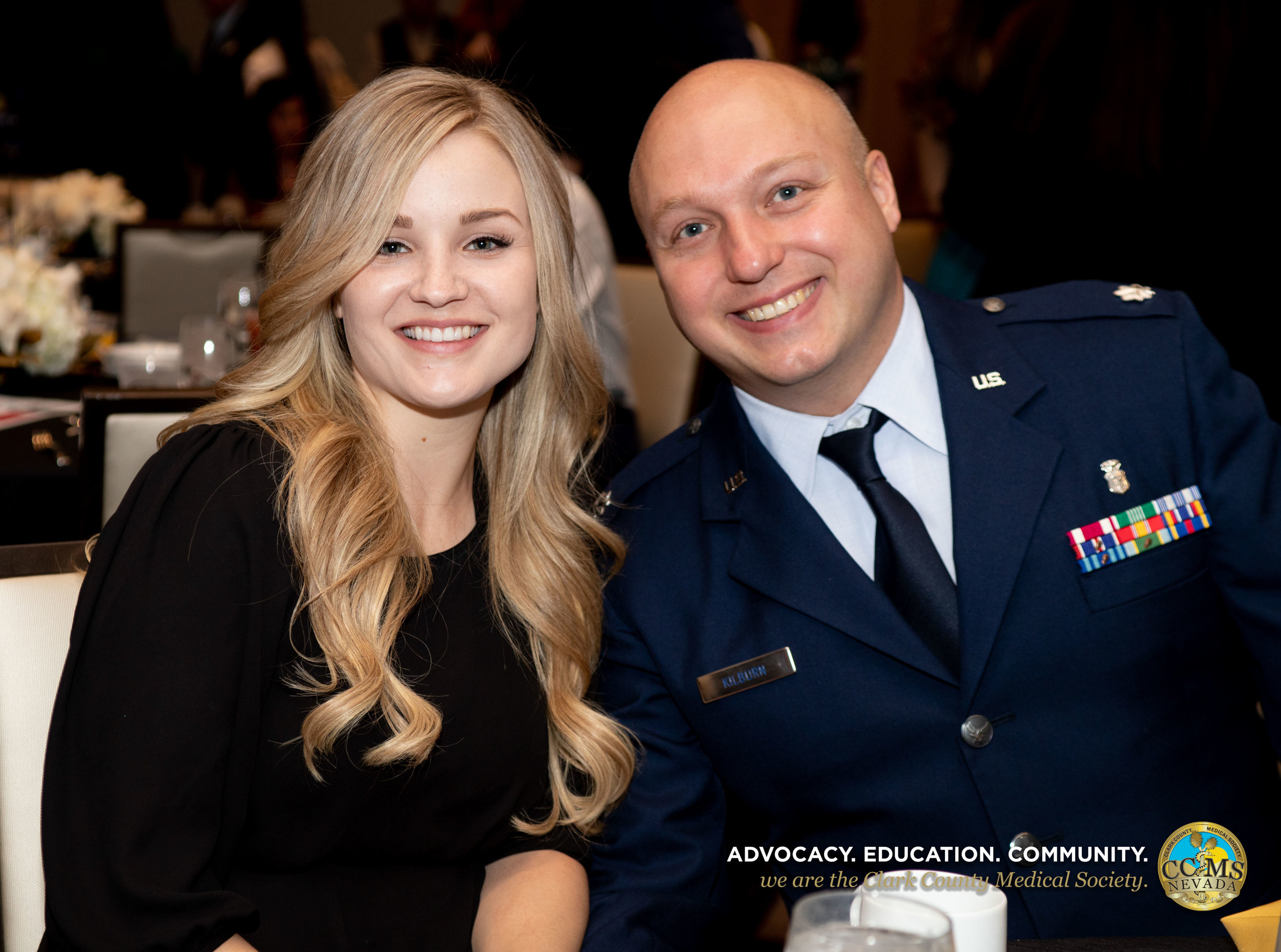 Clark County Medical Society would like to thank our Executive Sponsors for their support:
As well as our Associate Sponsors:
Student Advocate Sponsors: